Paul Bloomer: Unseen
The new exhibition at Vaila Fine Art is of "Unseen" woodcuts, oils, watercolours and pastels by Paul Bloomer.
See for yourself at the opening night on Saturday 16 April at Vaila Fine Art on Commercial Street, Lerwick. Or visit this web site again once the exhibition opens to see some of the works for sale at the gallery.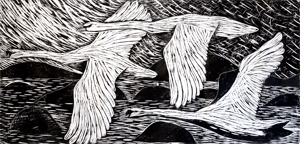 Paul Bloomer's work has been well known in Shetland since 1997. His strong images of birds and highly stylised island communities are immediately recognisable. The current exhibition includes both recent work and also work conceived and executed over the years but previously unseen. The show represents only a modest and potentially more commercially accessible sample of pictures by this very prolific artist and teacher, engaged as much in private pursuit of public expression as in current affairs. The oils on show are of domestic dimensions.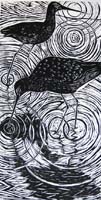 Coincidentally, there are a lot of good woodcuts by Amy Lightfoot to be seen at the Museum at the moment. Paul Bloomer's woodcuts of Shetland wildlife are far from predictable: the sheer scale and strength of images makes them fitting tributes to the beauty and monumental importance of our fragile environment. Despite the laborious tedium of the ancient technique with which to depict the most elusive of creatures, the prints look energetic and spontaneous. How does he do it? By his own admission, Paul attacks the blocks furiously and doesn't't stop until the carved out image comes close to the one on his mind. He often appears almost baffled by his own creative process and energy. At times blocks remain forgotten for a while, all urgency invested in the initial labour until later, when even more effort is needed to print the edition, usually of only 20, usually on demand, due to obvious storage constraints.
The watercolours are perhaps more surprising. Modestly dismissed by the artist himself as experimental, they are a joyous response to Shetland elements. They are small, iridescent with intense colour and utterly covetable as objects with decorative presence. The technique was inspired by Emil Nolde, the pigment was hand ground and the paper – heavy, spongy, Japanese, a rare breed of artist material, which required a special treatment by the skilled framer, Davy Thomson at FrameIt, to display, suspended in a box, and conserve. These miniature masterpieces are simply exquisite to behold - condensed colour therapy sessions, lifting spirits and lightening burdens.
The pastels in this show are not numerous but provide a welcome delicate colour and subtle sensibility in the otherwise overwhelmingly forceful show. Pastels are a notoriously difficult medium but Paul's images look effortless rather than overworked. Their palette may appear soothing but there is nothing easy-going about the subject matter: the primeval power of the sea observed in Paul's most preoccupying view from his Bigton garden vantage point, his challenging outdoor studio, sometimes contributing flying grit to the medium.
The exhibition opens on Saturday 16 April at 6 pm, and continues until June. All works are for sale. And there is a nice piece of writing by the artist to go with the exhibition.
Dorota