Claire Dalby RWS, RE
Artist's Statement
Bressay Lighthouse
It can be maddening to sit outside with paper and watercolours in a strong, cold wind. When clouds alternate with sun to transform the whole aspect of a landscape every few moments, particularly when there is intermittent rain.
But perversely it is often the weather and lighting that makes me want to paint a particular subject. Even fog has its own special quality of softly revealing shapes and colours without shadow or recession of headlands.
I have been roaming Shetland since 1978 with my botanist husband. My earliest landscapes here were tiny, hasty sketchbook notes made while waiting for the tide to recede on the slat marshes we were working on then.
Later, time for painting increased as did the complexity of the subjects. Though the paper size still rarely much exceeded A4, there is a limit to what I can do inside in a couple of hours with my drawing board on my knee.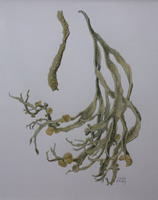 Claire Dalby botanical illustration
As a botanical illustrator my main work was originally with lichens, many from Shetland, but now encompasses a wide range of flowering plants too.
My Shetland wood engravings concentrate mostly on buildings, in groups or set in their landscape context with the exception of the buckie (whelk) shell which I had planned in my mind for years before actually tackling the subject.
Biography
1944 Born at St Andrews, Fife
1964 – 1967 City and Guilds of London Art School
Elected Member of RWS (Royal Watercolour Society)
www.royalwatercoloursociety.co.uk
Fellow of RE (Royal Society of Painter Etchers)
1973 RWS: 1994-1997 Vice President
1978 RE
Solo Exhibitions
2004 Pitlochry Festival Theatre, Perthshire
2000 Vaila Fine Art, Lerwick
1995, 1991, 1988 Shetland Museum, Lerwick
1988, 1981 Consort Gallery, Imperial College London
1982 Natural History Museum, London
Group Exhibitions
2006 Artists' Kew, Royal Botanic Gardens Kew
2003 Nature of Islands, Queen Victoria Museum, Launceston, Tasmania
1994 – 2000 International Miniature Prints organised by OffCentre Gallery, Bristol
1988 – 2000 Black and White, New Ashgate Gallery, Farnham
1996, 1994 Twelve Wood Engravers (traveling exhibition)
1987 Twelve Wood Engravers, Halifax House, Oxford
1987 A Fascination for Fungi, Royal Botanic Garden Edinburgh
1985 English Wood Engraving, Fremantle Arts Centre, Australia
1985 Med Ton Vikt på Tregravyr, Grafiska Sällskapets Galleri, Stockholm
1972, 1968 Two and Three-man shows, Clarges Gallery, London
1966 -2002 work shown frequently at RA Summer Exhibition, London
Collections
Ashmolean Museum, Oxford
Fitzwilliam Museum, Cambridge
Hunt Institute for Botanical Documentation, Pittsburgh, USA
National Museum and Galleries of Wales, Cardiff
Natural History Museum, London
Science Museum, London
Shetland Museum, Lerwick
V&A Museum, London
Prizes and Awards
2006 Gold Medal, Royal Caledonian Horticultural Society
2000 Shackleton Scholarship to draw in the Falkland Islands
1995 Gold Medal, Royal Horticultural Society
1994 Jill Smythies Prize, Linnean Society of London
1966 David Murray Studentship
1962 E.T. Greenshields Memorial Scholarship
Publications
2005 (with D. H. Dalby) "Shetland Lichens", Shetland Amenity Trust, Lerwick
1987, 1981 Two Lichen Wallcharts for the Natural History Museum, London